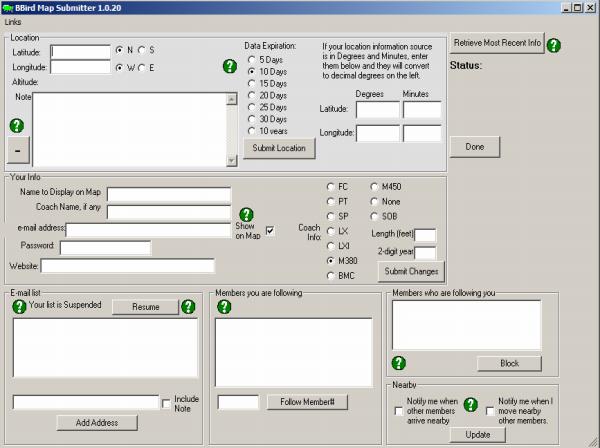 Download this free program using this link.

The BBMapSubmit screen is a very "busy" one, with lots of features. For routine location submissions only the top part of the screen is needed, so there is a "Collapse" button just to the left of the "Note" box. When you click this button with a minus sign you will get the screen shown below, and the button will become an "Expand" button with a plus sign.



| | |
| --- | --- |
| | Sprinkled throughout the program screen are Question Mark icons - click them for help on that part of the program. |
| | |
| --- | --- |
| | The "Retrieve" button is an important one, as it pulls all of your most recent information from the BBirdMaps.com server. The program does store the information locally, but for each section that only occurs after the section has had an update or change. |
| | |
| --- | --- |
| Information about you that will show on the map is included here. If you include a website, it will be linked to, and must begin with either www. or with http:// in order to be used. | |
You must include an e-mail address even if you choose not to show it on the map, since it is your login and is used to send you notification when your listing (10 days long) is about to expire. You control whether it is displayed on the map pages with the "Show on Map" check box. If you do allow your address to show, it will be scrambled in the map page code so it is not easy for someone to use automated address-harvesting techniques on it.





Do you have friends and family members who like to know where you are when you are traveling? Using the mailing list function makes it easy to tell them. Add an e-mail address at the bottom, and check the box if you want your note included. With the box unchecked it will say "No" next to their address, and they will get a very simple message telling them that you have moved, with a link to the map page centered on you. With the box checked it will say "Yes" next to their name, and they will also get your note, which can include lots of information about what you are doing.

To remove or edit an address, select it in the list and it will become editable below.

The Suspend button allows you to move and update your location, but the e-mails won't be sent to the list. Resume later when you want to begin sending the e-mails again.
| | |
| --- | --- |
| The most important piece of information that you must fill in with every location update is your Latitude and Longitude. When you use the "Retrieve Most Recent Info" button to get your information from the BBirdMaps.com Server, your last posted location will show in these boxes. That is handy when you just want to resubmit because you haven't moved, but if you have moved you will need to change the information! | |
| | |
| --- | --- |
| | Normally, e-mails are sent to your mailing list only when both Latitude and Longitude have changed by a modest amount. That is to allow you to make minor location adjustments without bombarding your mailing list with new e-mails. There may be times, however, when you have not moved but would like a new note to go to your mailing list. In that case, check the "Force mailing list send" box and when you submit your location, the e-mail will be broadcast whether you have moved or not. |
There may be other BBirdMaps.com Members with whom you would like to connect, so you would like to know where they are and when they move. You can get an e-mail as though you were on their mailing list by adding them to your "Follow" list. You add members by putting their number in the box and clicking the "Follow Member#" button. You can remove them from your list by selecting them in the list and then clicking the "Stop Following" button that will appear. Note that a member can block you from receiving such e-mails, but experience shows this is seldom done, as their location is public in any case.

One difference between the mailing list and the follow list is that mailing list e-mails have a "From" address that belongs to the sending member. Follow e-mails come from my (DonB) account. If you answer such a message, the reply will come to me, not the member you are following! You must be on the map to receive Follow messages.



| | |
| --- | --- |
| | This box shows you who has you in their Follow list. One difference from this and all of the rest of the program sections is that it is only filled in when you use the "Retrieve Most Recent Info" button, discussed above. That is because you don't control who is on the list, which may change between your location update sessions. You can select a member in the list and block or unblock them, but since you are publicly on the list there will seldom be a reason to do so. |
| | |
| --- | --- |
| Finally, many of us like to meet other Blue Bird owners in person. The two Notify check boxes provide a way to learn when others arrive near you, or you arrive near them. "Near" is approximately 25 miles, but varies from location-to-locaton. You must be on the map yourself in order to receive such notifications. | |
Download this free program using this link.
About the author: Don is a semi-retired pet shop owner and long-time programmer who runs this site for the fun of it.